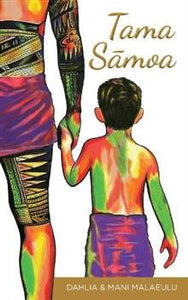 Mila's Books
Tama Samoa
Regular price
$34.00
$0.00
Tax included.
Shipping
calculated at checkout.
Sione, Lima, Tavita and Filipo are high school friends, uso or brothers. They are part of a special letter-writing project that helps to start a brave new conversation, an open and honest talanoa with themselves starting with the words,
Dear Uso
... Here they share the cultural challenges they face, and without realising it, their need to belong, to be accepted and the impact this has on their wellbeing overall.
This is not just a story of friendship, brotherhood and healing. Tama Sāmoa helps us all to reflect, reconnect and reunite in better supporting each other as who we are. It is also a story of self-discovery and hope for a new tama Sāmoa code to be created based on real talanoa and understanding.
Includes:
- Tama Samoa fictional story.
- Study Questions For Students.
- The Tama Sāmoa Project: A space created for fourteen Samoan male students and educators to share their own boys-to-men stories, lessons and journeys to help today's tama Sāmoa, our tama Pasifika, to be better understood and supported in succeeding as themselves. 
Tama Sāmoa Project Contributing Authors: Isaac Sanele, Elijah Solomona, Simati Leala, Senio Sanele, Emmanuel Solomona, Aleki Leala, Okirano Tilaia, Israel Risati Sua-Taulelei, Saul Luamanuvae-Su'a, Atama Cassidy, Darcy Solia, Liko Alosio, Mikaele Savali, Dr. Sadat Muaiava
ABOUT THE AUTHORS
Dahlia Malaeulu is a Wellington-born Samoan author of children's Pasifika books and creator of Mila's Books. She is a passionate educator who enjoys creating stories that develop cultural confidence amongst tamaiti (children), fanau (families) and faiā'oga (educators).
Mani Malaeulu Mani Malaeulu is the owner of Empowerment Training, a leadership training company. He has spent over a decade in leadership roles, consulting and mentoring high school students, as well as managing and leading teams across the recruitment and financial sector.
ISBN 978-0-473-58544-0 / Publisher: Dahlia Malaeulu for Mila's Books / Release Date: 25th Sept 2021 Pages: 174 pages / Format: YA Paperback, 12.3cm x 20.3cm
---
More from this collection