• ailao • Ailao Afi • culture • dance • Fire Knife Dance • how to tie a lavalava • lavalava • Measina Siva Afi School • online courses • Siva Afi • Siva Afi Performance • Siva Afi Samoa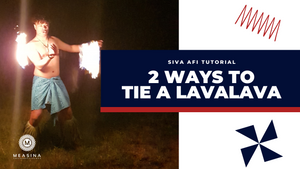 If you are a Siva Afi (fire knife dance) performer you are going to want to know how to tie a lavalava. A lavalava is known as a pareo or sarong in other places.  In Samoa it is called a lavalava, ie lavalava or just an ie.  It is the material that is used as clothing and wrapped around the waist or body. Siva Afi performers use them in their performances as it was traditionally used by our warriors when they went to war. For those of you who don't know siva afi is an adaptation of the ailao, a...
---
• cultural diversity • culture • language • measina • melbourne • pacific islands • polynesian • samoa • tonga
"I believe the children are our future Teach them well and let them lead the way Show them all the beauty they possess inside Give them a sense of pride to make it easier Let the children's laughter remind us how we used to be" Yes they are the lyrics to the Whitney Houston song 'The greatest love of all".  So why am I including them in today's blog?  I am including them because yesterday we saw a video of Pacific Island girls beating up on another girl at a train station blasted across the media.  I am including it...