• mother's day • Samoan music • samoan song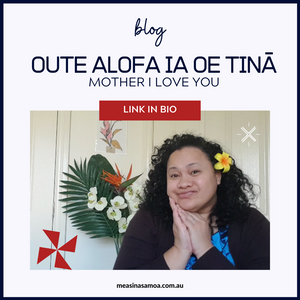 Forgot to get mum a gift for Mother's Day?  You could learn this beautiful Samoan song to sing for mum on her special day.     Here are the words: Samoan Lyrics 1. Oute alofa, ia oe tina.* Ua auina mai a'u ia oe e le Tama. Pe a ou latalata ia oe. Oute iloa lou alofa ia te a'u. 2. Oute alofa, ia oe tina. Oute fia fesoasoani ia oe. Ma usita'i, ia te oe. Fiafia aua oute alofa fo'i ia oe. Oute alofa ia oe lo'u tina. English Translation 1. Mother*, I love you; mother, I do. Father...
---
• samoa • Samoan • Samoan music
We all know that music can set the scene for any occasion. It can make you feel sad when it reminds you of a memory of someone you loved.  Music can also bring you happiness and pump you up for things to come.  Music has been a huge part of my life, especially Samoan music.  Here are our favourite Samoan songs and why.     La'u Lupe Ua Lele When I was learning Samoan at university we had to do a group performance of a Samoan song.  La'u Lupe Ua Lele was the song we chose and is one of...